Happy Holidays to all my readers!



I always reach a point during the holidays when I am done.
More than done decorating.
And more than done looking at other decorations,
Now don't get me wrong … I love Christmas. I can't wait to pull out all the boxes and I suffer when my husband wants to wait to get the tree until after Thanksgiving.
Don't give me grief about Thanksgiving getting no respect. It does in this house complete with a huge turkey and too many vegetable and dessert dishes.
But this year is different somehow. Maybe it's because I lost a sister in May, and it still really hurts. I tell myself that Mary Kay loved Christmas (all my sisters and I are addicted to Christmas) but knowing that she won't be there to make us laugh with her insane gifts (chosen purposely) makes me sad.
Or maybe it's because I'm lacking in energy. I had a ton at the start of November, but my meds got changed.
Or am I just getting old?
I know some people change their decorations each year. One woman I worked for always had a theme. Sometimes there was a theme for each room of her house! Me, I have some decorations from when I was first married, and I like them best. And although I usually buy a new ornament or two each year, I still reuse the same old decorations.
Or is it all the repetitive sales emails? Honestly, I delete them after the New Year. But this year … I may delete them today! Do I really need FOUR emails from a men's clothing chain in one day? I bought stuff already, folks. Leave me alone.
Okay, deep breath …. Think about the things I do love.


*That look of awe on my four-year-old granddaughter's face as we decorate or bake cookies.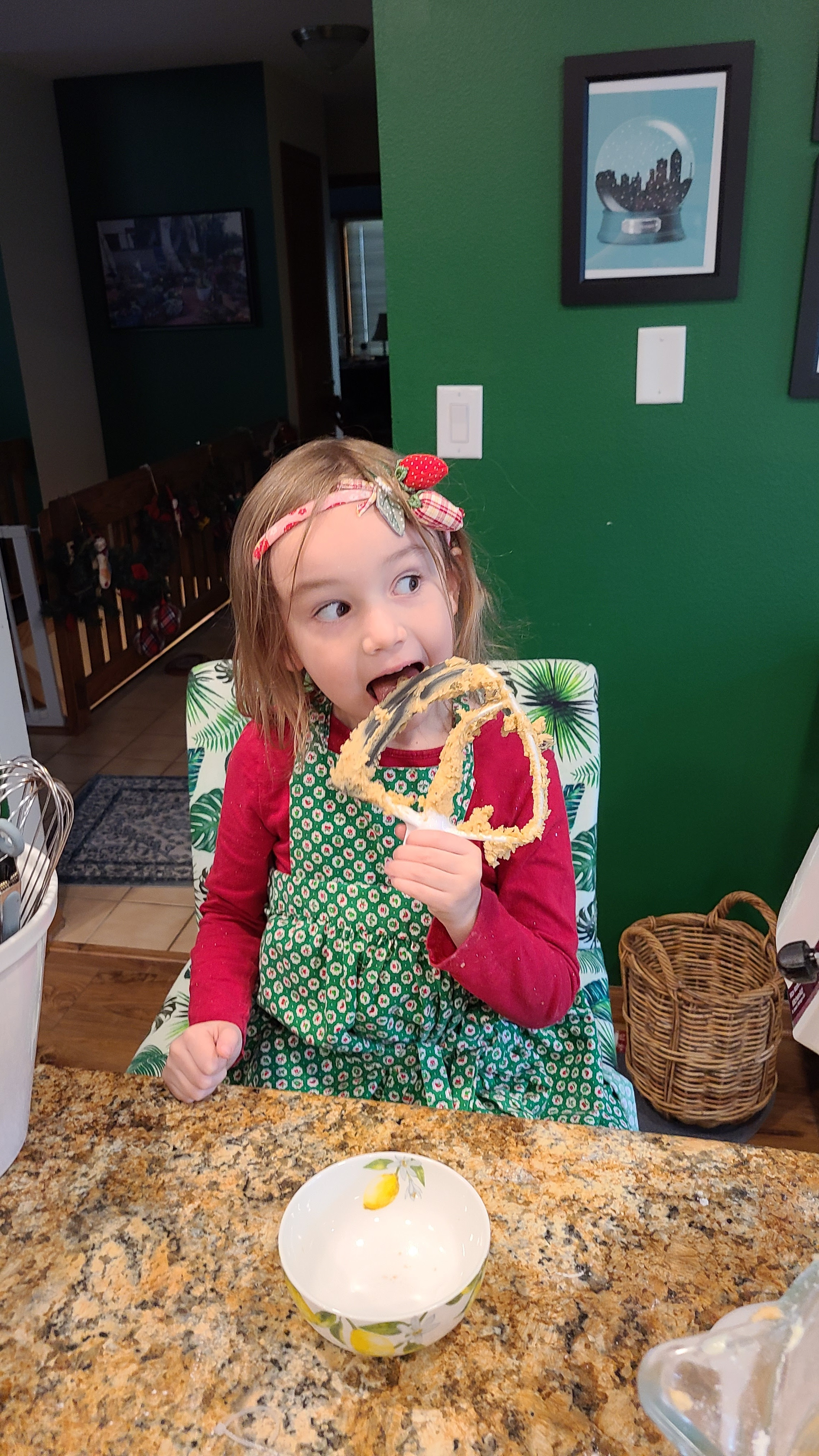 *Or the mischievous look that the one-year-old granddaughter gives right before she pulls an ornament off the tree.
*And the excitement of the parents of these two little ones makes me so happy. Do you remember taking your little ones to see the lights? I do. In fact, somewhere in the last forty years the term "smell the lights" came into our vocabulary. Thirty or so years ago, one local neighborhood had a street where everyone lit up their homes. Our kids loved it, especially the Santa who handed out candy canes in the middle of the tour. Now, one of my kiddos and his wife are doing the same thing with their kids and taking grandpa and grandma along for that joyous ride. I love that.
*Our neighbors bring us treats! Such an old-fashioned thing, but I love it. Ann, next door, brought over cookies and I know Joanne and Barb on in the wings. I've put together a Cocoa Mix to give them and I'll make the little boys next door chocolate chip cookies. I love that.
I love giving gifts. (And I think I'm pretty damn good at it, too.) I enjoy figuring out what a person might want and maybe need, wrapping it up and seeing their face light up. Just this week I gave a friend two odd ornaments that I knew she would love. And I was right! I enjoy it more than opening anything for myself.
This year was the first where I asked for specific items, all having to do with our home. I wanted a railing added from the house down three steps to the garage.
Pat did that.
I wanted a new shower head and new toilet in the master bathroom. Hubby got that done. And I wanted to move my grandfather clock from the entryway to a corner of the living room. This requires taking up part of the carpet and putting in a solid floor. (I know from experience that grandfather clocks don't do well sitting on carpet.) So that's going to happen, too.
I also asked for my adult children to get wills and life insurance. This might seem like a terrible interference from MOTHER, but I have solid reasons. My sister died without a will. Nearly six months later we are still in probate, still wondering what to do with her home. My grandbabies need protection in their parents' wills. Life insurance is also necessary for those left behind to pay off bills or give the survivors a cushion. Thankfully, my kids are aware of what their aunt did not do in life that is challenging her sisters after her death. They heard my public service announcement at her service to have a will. So they are working on it and have told me.
I still enjoy flipping on the outdoor lights at night and sitting near my Christmas Tree ( a real one, although I wonder if that should end, too). I wrap my gifts, listen to Christmas tunes, and drink hot chocolate. I reflect on other Christmases and am thankful that I get to enjoy this one. My sister and I had a last phone call where we discussed our health and what we were doing to try and be around a bit longer. She did not get that opportunity. I have it, so I better find a way to sludge through the too-many emails, wrap the last gifts, and endure the last week push of the season.